I planned to post this before Christmas, but what with the craziness that comes with the season, I ran out of energy. So now we're in the New Year and I'm ready to show you the full kitchen makeover, and as we've been living with it for a month, I can give you more insight into what works and what has caused a few issues.
Before we start, here's the background:
The kitchen was installed in 2004 after we purchased it, plus appliances, from MFI. Many of the appliances have been renewed since then except the hob and oven, and whilst the style of the kitchen is dated, the major layout is still well functioning. The area around the breakfast bar and new fridge freezer needed replacing and the plan was to integrate the fridge more fully into the kitchen.
The Plan:
Taking inspiration from the magazine cutting above, my mum and I were chatting about building in better units around the fridge freezer so it didn't stick out into the room so badly, which gave me the idea of using contrasting cupboards for this area only.
The remaining cupboards and doors could be upgraded with painting, and a complete new worktop and breakfast bar would help tie the two contrasting areas together.
New flooring would run from the dining area through to the kitchen helping the two rooms feel more connected, and new tiling and paint would give the room a more contemporary feel.
If you read the blog regularly you will have already seen detailed posts on the Harvey Maria flooring, the British Ceramic Tile Hexagon wall tiles, the Maxtop Quartz worktop and the new Residor back door, but today I can reveal the full room, including a video tour I made a few weeks ago.
So let's start with a few before shots of the kitchen taken in the last year or so: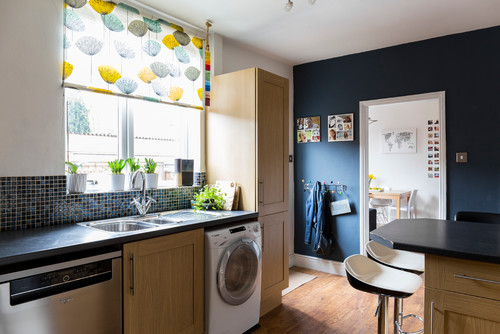 You can see we had an oak shaker style kitchen, which was fine in its day. The breakfast bar area and worktops were well worn, and we'd hacked about at a few cupboards over the years to fit in the new fridge freezer. Overall, we'd lived with the wood and blue/black look for many years and it was time for a change.
And so here's what it looks like now:
It's a massive change isn't it? And I'm blown away by how different it really looks. Even though I'd planned the styling in my head, the change is much more dramatic than I envisioned.
I'm not an interior designer, and tend to build a look together once base elements are in place (in this case the floor and cupboard doors). So, I didn't know what the final colour scheme was really going to be.
The amount of light bouncing around the room is amazing. And of course that has come from the high gloss units and white worktops; they've made a huge difference to the light in the space. (They do show up the mess and dirt a little more than black though so consider this if you want them).
Here's the order of work, in case this is useful for planning your own makeover:
Kitchen doors removed and cleaned up, given to painter to spray paint in advance of the final decorating.
Ripped out the old breakfast bar and cupboard area and took up the old laminate flooring.
Built the new IKEA cupboards (order in store for next day delivery).
Employed a DIY handy person to help install them over 2 days.
Ripped out the old worktop and sink. Removed the old hob too.
Installed the new worktop and breakfast bar over 2.5 days. My husband did this with our DIYer, and it was tough work.
Plumb in the new sink (husband's job).
Take delivery of the new oven and gas hob. ao.com installed the hob on delivery for a £99 fee. Husband installed the oven and we were lucky we didn't need new electric cables.
New flooring installed in kitchen and dining room over 2 days. (Ideally should have been done last but tilers availability meant this wasn't possible).
Tilers arrived to install the tiles over 2.5 days.
Kitchen walls painted. Cupboard doors completed on site, plus painting of cupboard carcasses, panels and kick boards.
Full cost:
I'm aware that you could probably do what we've done, in a cheaper way. There are always ways to save money, and less expensive options in all areas. We saved money where we could, but treated ourselves in other ways. I didn't shop around when looking for trades people as availability was a key factor, but doing this would save you money.
We spend £4500 including parts and the labour we bought in to help us. We are quite good at DIY, well the husband is, and we could have done at least 90% of the work, but time is always a barrier, so we took in some help.
The floor, worktops, and tiles were gifted, but we paid for fitting on all of them.
Labour costs:
Floor fitting £850 plus plywood
Wall tiling £400
DIY Handy Person day £400
Door and Kitchen Painting £1300 **See below for further details on how this went
Obviously this is a reasonable amount of money but is much less than fitting a brand new kitchen. I'm really happy that it looks and feels completely new so I think we got a good deal.
Pros and Cons:
I thought I'd list out some experiences, good and bad of doing a kitchen remodel in this way, i.e. retro fitting some aspects and NOT fitting a brand new kitchen.
Pros:
Obviously the cost is a big pro. It's cost much less to do this remodel than it would have to fit a brand new kitchen.
It's less disruptive overall and you can control the work, doing it in stages that suit you.
It's a great way to update a tired or outdated kitchen when you only have a smaller budget.
If you want to follow a few new trends and change-up your kitchen, this is the ideal way to go about doing it.
Cons:
You need a good handle on project management to enable the work to be done in the correct order.
Be prepared to do a fair amount of the work yourself, particularly if you want to save on labour costs.
You'll need a good understanding of plumbing and/or electrics to ensure you order the correct models and appliances that fit into your existing space and setup.
You can't upgrade appliances too much unless you're willing to do major work laying new electric cables (steam ovens need a lot of power), and possibly reroute plumbing.
Retro fitting lighting can cause problems, so think through what lighting connections will be left once you start moving everything and adding in new cupboards.
Finding kitchen fitters/trades people who can do ad hoc pieces of work for you, like fitting the worktop for example, can be tricky. You'll need to do a fair bit of calling around to find the right people. And to get them available at the right time to fit into your project timeline.
Which brings me onto the final con, be careful who you employ. If you don't know them, get recommendations from others, look at their previous work and if you can, go on word of mouth.
Let me fill you in on the horrors of using a painter from ratedpeople.com. The painter was booked and had our kitchen cupboard doors, spraying them in advance of decorating the room once all the other work was finished. He arrived a week late and then walked out of the job after one day…. where he'd pretty much done nothing. He did return the half painted doors eventually and some paint, but I never saw the deposit again. I was clearly duped.
It meant we had 5 days of solid painting to get the room completed. Painting kitchen cupboard doors is no easy task (would a separate blog post on this topic be useful?) and takes a lot of effort and is very disruptive – as I found out. I did save nearly £1k in the end on the labour costs so treated myself once I'd finished the work!
Kitchen Product List:
White high gloss kitchen cabinets – IKEA £950
*Maxtop Quartz worktops. More information HERE
Neff Glass Hob and 'Bake Off' oven – ao.com £900
*White marble Hexagon wall tiles – British Ceramic Tile
Black composite granite sink and tap – Tap Warehouse £250
Wall paint Battlement Grey – Valspar
Cupboard Door paint Charcoal – Valspar (All paint cost £250-£300)
Brass kitchen handles – eBay £45
*Harvey Maria flooring Check by Neisha Crosland – HERE
*Residor Composite door – HERE
Yellow bar stools – Sklum £250 approx
Wall light – made.com £25
Ceilings light – Dowsing and Reynolds £120
Wooden venetian blind – blinds2go £100
*Samsung Fridge Freezer – HERE
*Copper Kettle – HERE
*Wall art – Mapiful and Junique
*Gifted Product
If there is anything else that you've spotted in the room, which I haven't listed and you'd like to know where it's from, just leave a comment below, and I'll get back to you.
Thanks for getting this far, I know this was a mammoth post, but if you have any questions about how we did any of it, let me know and I'll do my best to answer.
Jen x