One of the biggest issues I face with bathroom design is how to make it welcoming. With all that ceramic, porcelain and clinical white fittings, it's hard to make the room feel cosy and warm. Funnily enough, I think small bathrooms are harder to get right, even though on paper they should probably be easier.
So, with that in mind, I thought I'd do a small bathroom update post with some of my ideas and thoughts on how you can decorate the space to keep it inviting and cosy. Do let me know if you've anything else to add, or other ideas you think we should all be considering.
Small Bathrooms: How to Keep them Warm and Cosy: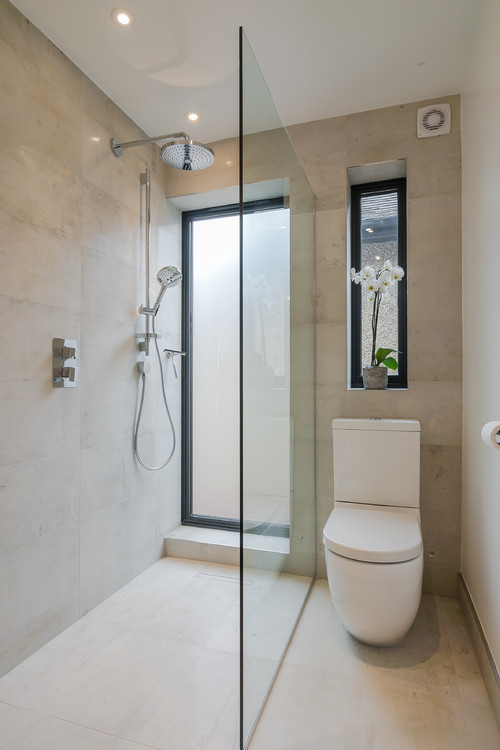 A small bathroom is a nightmare to decorate. It's true. I have one, and it's been a pain for many years. I thought I had it right but looking at it now it definitely needs some improvement. The suite is fine, fitted 10 years ago, it's still on trend and perfect for the space. BUT, the rest of the decor needs improvement, so what could I focus on?
Tiles and Texture:
Now you might think that tiles aren't going to add to the warmth and cosiness of your small, or even larger bathroom. but I think you'd be wrong. Whilst a flat white tile isn't going to do much to create a welcoming space, tiles with pattern, colour and texture will. Designing bathrooms now is much more about using the tiles as your main style statement, whether that's on the floor or the walls. Combining the 3 elements, colour, pattern and texture together will give your room both a wow factor as well bringing it to life. No more dull, cold and lack lustre design for you. Take my advice, be bold when it comes to the choice of your bathroom tiles.
And to help you out, take a look at Bathrooms By Design, a luxury brand with stunning pieces, who, at the time of writing are also running a sale! Perfect timing if you're about to start a renovation or wanting to update a few key features in your bathroom.
Make it Bright:
Keeping the room well lit is tricky, particularly in a small space.
Bathrooms are notoriously hard to light
and there are rules and regulations to follow too, but always remember it's a room that needs to be bright, whether that's from artificial or natural light. So, add plenty of lights. Wall lights are great, if you can install them at the time of major renovation, and offer task lighting when needed. Of course bathroom cabinets are often lit these days too, and help the ambience as well as provide much needed extra brightness. And LED strip lighting is a great way to add to a contemporary design and subtle ambience in the room.
Underfloor Heating:
Ok, so this isn't necessarily something that you see, but it is an element that affects the ambience of the room, and in turn, how you feel about it. Think about walking into a chilly, maybe even icy bathroom late at night when you're getting ready for bed with bare feet, and how grumpy that can make you. Now imagine that same room, with a warmth on your feet that was unexpected. It lifts your mood, right? That's exactly what a good design should do, lighten your spirits and make you feel welcome. And of course, the bonus of adding underfloor heating to a small bathroom, is the lower cost.
So, there you have 3 tips for updating your small bathroom, and creating a much warmer and cosier environment now the weather is turning colder.
What will you do to update your bathroom this Winter? Let me know, I'd love to hear your tips below.
Jen x
Images: Houzz || Patterned bathroom via Shutterstock
Collaborative Post