Promotional post
Ever wondered what home lovers consider to be the best home sofa colour?
Well today I want to have a look around at some of the possibilities, how you can style them and what to expect when you add a bright sofa into your living space.
There are a myriad of colours around, and typically we (as home designers) usually opt for something safe and practical. After all, a sofa is a big investment and we want it to stand the test of time.
So let's dig in and start to explore the beautiful, vibrant sofa colours to choose from at the moment.
The Best Sofa Colour to Choose in 2022
The Best Sofa Colour: Yellow
Botanical Sofa in Yellow
If you're looking for a colourful sofa to brighten up your living room you can't go wrong with yellow!
It's my favourite accent colour in the home and I have pops of it everywhere. From light fittings in the loft bedroom, to bar stools, to a pouffe in the dining den and even a yellow bin in the kitchen!
Whether you love or loathe it, we can probably agree that it really adds the wow factor when on a sofa.
Its vibrancy, freshness and impact is unrivalled and in a durable velvet finish it's more practical than you might think.
Paired with darker colours on the walls, it brings life to your living room. Keep it calm with taupe neutrals if you want a softer look.
This one is definitely a look that will get everyone talking.
The Best Sofa Colour: Green
Verdosa Sofa
If you fancy a green sofa in your living room you can't go wrong with a beautiful teal. It's soft, warm and mellow, adding moody hues without overpowering the rest of the room.
There are many green sofa colours to choose from. I have a sage green for example in the dining den, and we love it. You can opt for a bright, grass green, or go for something more subtle like this one above.
It's pretty easy to decorate around a green sofa. Just remember it's nature's obvious shade and works easily with other natural, outdoor based hues. Thinks browns, caramels, yellows, pinks and of course, more greens!
Blue Sofas to Drool Over
Darcy 2 Seater Sofa
For some, the blue sofa is an easier simpler choice. It can be easy to accessorise and, whilst it adds a pop of colour to your seating, it doesn't feel to out of one's comfort zone.
The Rust Sofa
Oasis Spice 2 Seater Sofa
Rust or orange, as a sofa colour may not seem like an obvious choice, but this spicy shade is gaining popularity across interior decor.
It's rich. warm and inviting. Decorate around it with greens and golds, or add more Moroccan inspired colours and textures.
What I really love about this particular shade is, being a child of the 70s, seeing an orange revival is really heartwarming.
There's a danger you can bring too much orange to your home though, and no one wants to relive the entirety of the 1970s decor era.
So tone and modernise this orange sofa with some inky blues, giving it sophistication and a luxurious feel. And don't forget, black and white will go with pretty much anything – and definitely with a burnt orange sofa.
The Best Sofa Colour: Bright Green
Bronwyn 4 Seater Sofa
We've already showcased how a blue based green sofa can look in your living room, and here, this sage green gives a different ambience altogether.
Accessories in popular gold or brass tones work beautifully with this particular shade and combined with patterned chairs and cushions, it feels positively charming.
There's something so uplifting about a sage green sofa. It's earthiness and connection to nature calms us, grounds us, soothes us even. I'm a big fan of green in the home and if you haven't tried it yet, do give it a go. There's bound to be a variety you enjoy.
The Simple Choice: White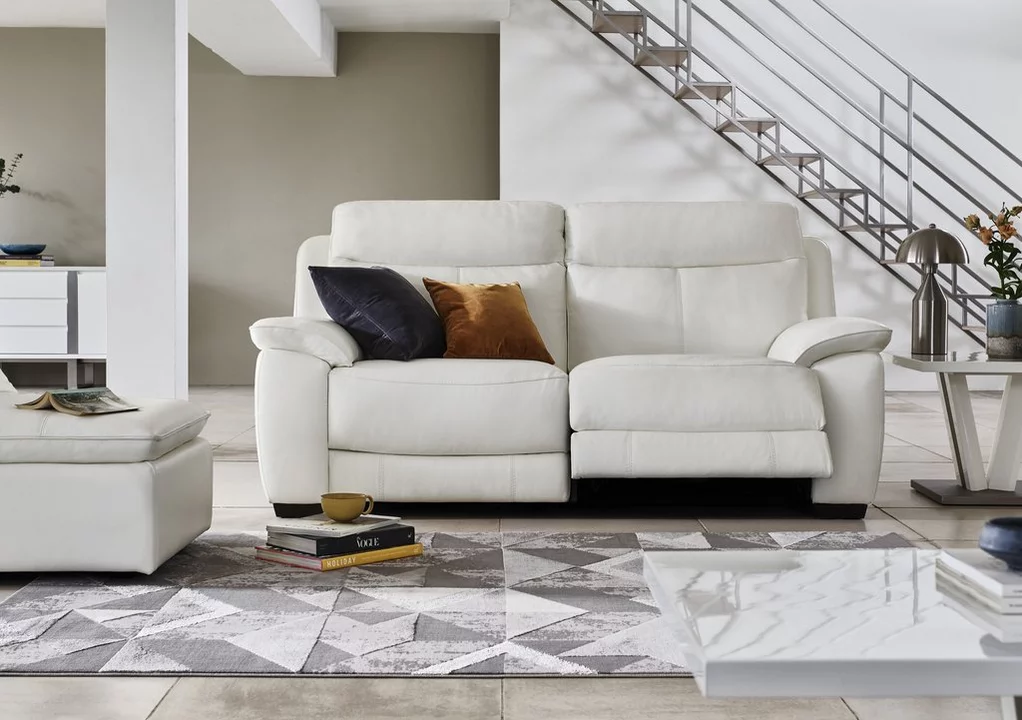 Starlight Express 2 Seat Recliner
Whilst it may strike fear into every family, the white sofa can be a striking colour choice for your living space!
Yes, it needs to be practical. You need to be able to wipe or wash the covers regularly. Or it's needs to be in a low traffic, low use room so as not to incur too much staining.
Of course, choose your sofa in a white leather and you get a sophisticated, durable and long-term solution for your living room seating. The look is classy, updated with luxurious fabrics, cushions and throws, adding pops of strong colour.
Your new white sofa is the perfect backdrop for a modern, easy living style.
What is your favourite sofa colour at the moment? Which would you choose for your home?
Jen x
SAVE TO PINTEREST AND COME BACK LATER: